Moderator
Staff member
Ultimate VIP
The new iOS 14 for iPhone is coming this fall but we already know what features it holds. And it holds a lot. Improved widgets. Better home screen customization. Exciting Message improvements. New abilities in Camera and Photos. There's so much here that it'll take months for you to learn everything by heart.


We'll attempt to show you everything iOS 14 has to offer you when it's released later in the year, but you can also jump in and experience all of the new changes and features with the iOS 14 beta. While it's not recommended that you install it right away unless you're a developer, it's okay to do so as long as you save a proper backup in case you need to downgrade.


If installing a beta before it even officially opens up to the public scares you (the public beta is coming in July), just sit back, relax, and peruse the list below to see all that's coming to you when you're ready.


1All iOS 13 Devices Are Supported
We knew it before Apple even said it. All of the iPhone models that support iOS 13 also support iOS 14. There's not much more to say about it.


New Widgets
Apple's iOS 14 has some long-awaited widget customization options. While some of them don't go quite as far as we'd hoped, they're enough that dedicated Android users might finally start looking at iOS as a viable option.

2Widgets Are Better Than Ever in the Today View
The Today View that housed all of your widgets wasn't very easy on the eyes. But now, they've been updated to be less clunky, more responsive and data-rich, and more aesthetically beautiful.

Weather, Clock, Calendar, News, Notes, Maps, Photos, Reminders, Stocks, Music, Podcasts, Tips, Batteries, Screen Time, Files, Siri Suggestions, Shortcuts, and App Suggestions widgets have all been updated. Apple even hints at a new widget for "Fitness," which could be a new app yet to be seen.


Apps that had widgets before will still have them now, but they'll still be the old-style widgets in Today View.


3You Can Add Widgets to the Home Screen
Ever since widgets were a thing on iOS, people have wanted them on their home screens. The time has finally come. With iOS 14, you can drag and drop widgets from the Today View onto your home screen, or you can add widgets from the home screen's edit menu.




4You Can Change the Size of Widgets
There are options to choose the size of widgets. You can pick between small, medium, and large, based on how much data you want to see on the widget.


5Quick Action Widgets Are Gone
In iOS 13 and older, you could long-press an app's icon on the home screen to see if it had a widget and, if so, the widget itself (left image below). Now that you can add widgets directly to your home screen, there's no need for it via quick actions (right image below).



6There's a Widget Gallery for All Available Ones You Can Use
Before, you wouldn't know which apps had widgets unless you opened up the Today View editor. Now, there's a widget gallery for everything, Apple and third-party apps included. It highlights tops widgets that people are installing and using the most so that you know which ones are most useful to the masses.

Note that Apple's apps have the new widgets available now, but third-party developers still have to build theirs before they appear in the gallery.



7There's a 'Smart' Widget That Gives You a Set of Intelligent Widgets in One
One of the coolest parts about Apple's new widgets is that there's a widget for widgets. It's called Smart Stack, and it gives you a carousel of widgets that uses on-device intelligence to show you the right widget at a particular time of day, where you're currently located, the type of activity you're performing, and more.



8You Can Stack Widgets on Top of One Another
And you can make your own stack of widgets. Each stack can have up to ten widgets of the same size (you can't mix and match sizes). Just drag one on top of another one to create a stack, then drag more to add to it. Then, you can swipe on the widget to see all of them in the collection.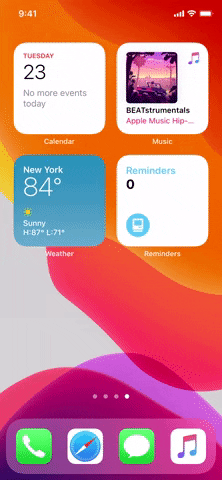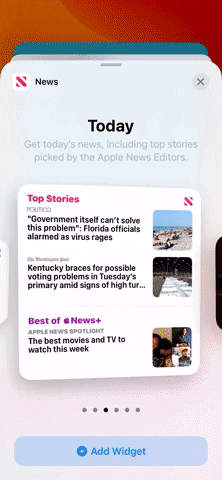 9There's a Siri Suggestions Widget
With this new widget, Siri will suggest actions using on-device intelligence, and when you tap an action, it performs it right away without launching the app.


New Home Screen Options
The time has finally come: home screen options we've been wanting for some time! There are actually a lot of new home screen features, and our favorite involves hiding pages you don't need to see all the time.


10You Can View All of Your Apps in the App Library
At the end of all of your home screen pages is a new feature called App Library, which houses folder-like collections for Suggestions, Recently Added, and intelligently curated smart groups that you can browse through easily. You can tap an app in the folder to open that up right away or tap the group of apps in the folder to view the other apps for that collection.

11There's a Suggested Apps Collection
As just mentioned above, in the App Library, there's a folder for Suggestions which shows you apps you may want to use based on your location, your activity, or the time of day.

12And a Recently Added Collection
We mentioned this one above too, but whenever you install an app on your iPhone, it will show up here for a while. Even the new App Clips will show up here (more info on App Clips below), giving you easy access to install the full apps.

13The App Library Auto-Categorizes & Sorts by Categories
Aside from those two smart categories, there are others such as Social, Productivity, Entertainment, Reference & Reading, Education, Creativity, Games, Utilities, Lifestyle, Health & Fitness, and Other. The apps in these categories will change in importance based on your iPhone usage, and the collections reorder themselves likewise.

14View Your Home Screen Apps in a List
In the new App Library, whenever you tap the search bar up top, it shows every single app on your device in a list view that you can scroll through. You can even jump to letters A through Z or check out all the apps that start with numbers.

15There's Another Way to Search for Apps
Before, when you couldn't find an app on your home screen, you had to use the Search feature on the home screen. However, that brought up more than just installed apps results. Now, in the App Library, tap the search bar and you can search just your app repository.


16Home Screen Pages Can Be Hidden
If you want to only use the new App Library view, you can get rid of all of your other home screen pages. Or if you just want to make the App Library easier to swipe to, you can get rid of all but one or two home screen pages.

New Customization Options
While widgets and home screen customizations still the show in iOS 14, there are still a few very important things you can personalize on your iPhone that don't involve widgets and the home screen.

17There Are New Wallpapers
It wouldn't be a real update without at least a few new wallpapers, and Apple delivers. There are three new ones that all look the same but with different colors. There's a neutral, cool, and warm wallpaper, each of which comes in both light and dark versions.




18Third-Party Apps Can Finally Be Set as Defaults
Yes, that's right. Something we've all been waiting for has finally arrived: the ability to choose our own default apps. The only problem is that iOS 14 only lets you switch from Mail and Safari to a different email and web browser app, respectively.

New Messages Features
One of the highlights of iOS 14 is the update to Apple's Messages app. It has some really cool features now, though, some of them still only apply to iMessage threads.


19You Can Pin Conversations to the Top
You can pin notes in Notes, and now you can pin conversations in Messages. Pinned messages appear up top in bubbles instead of just showing up like other threads. If you sync Messages with iCloud, they will also appear on your other iOS 14, iPad OS 14, and macOS 11 devices.

20There Are Animations for Pinned Conversations
Whenever you get a new message, a tap back, or whenever someone is typing in an iMessage, you'll see little animations for those appear on the pinned bubble up top. In group chats, the three most recent users in the group will circle the pin when they send a message.

21You Can Have Up to 9 Pins
A lot of pinned conversations can fit at the top of your Messages screen — up to nine, to be exact.

22You Can Add Custom Photos to Groups
While you can give each contact a photo, Memoji, or emoji, now you can give each group its own too. Whenever it's set for a group, every member of that group will see the change.

23You Can Tag Contacts in Group iMessages
Whenever you're in a group chat, things can get out of control. So when you need to direct something to someone specific, they may not see it — until now. In iOS 14, you can mention them directly in the group chat, and they'll get a notification to let them know.

24And Choose to Receive Only Group Notifications for Mentions
If you don't want to get tons of alerts for each message that appears in a group iMessage thread, you can opt to receive notifications only for ones that name you directly.


25There Are Inline Replies for Group iMessages
Things can get confusing real quick in group chats, so when you try to respond to something that happened 20 messages ago, it may take people a minute or two to realize. Now, you can reply directly to a message in a group thread to create inline replies, so nothing ever gets confusing.

26You Can Long-Press to Hide Alerts
Before, to hide alerts for certain threads, you'd have to go into the thread's information pane to use the toggle or swipe left on the conversation and use the "Hide Alerts" button. That still applies, but you can't swipe on pinned threads, so you can't hide alerts that way. So iOS 14 added a "Hide Alerts" option from the quick actions menu after you long-press a pinned or unpinned thread.

New Photos Features
While Apple didn't talk about the Photos app much during its WWDC presentation, there are quite a few interesting new features photos and videos on your iPhone.

27You Can Filter Your Photo Albums
In an album view, you can now filter by Favorites, Edited, Photos, and Videos.

28And Sort Them by Newest or Oldest
This isn't entirely new since you could always tap the top or bottom of the screen to jump to the oldest or newest images, respectively. But now there's actually quick action buttons for "Oldest First" or "Newest First" which actually change how your images are ordered — they just don't jump you to the top and bottom.

29You Can Zoom in and Out of Albums
You could do this before in the "Photos" tab, but now you can do it in Albums, Favorites, Media Types, Shared Albums, and more too. You can zoom in to a single photo, zoom out to the regular grid that's three images wide, or zoom out further to a grid five images wide.

30You Can Show the Real Aspect Ratio of Images in Albums
Everything always appears as squares when you're browsing albums in Photos, but now you can choose "Aspect" to make photos and videos show up in all their glory. They even show up in the correct orientation.


31You Can Make Memories from Albums
Before, you could only make playable and editable memory videos from the "For You" tab. Now, you can do so from albums using the "Play" option. You get all of the same controls, including length and the mood.

32And There Are Slideshows for Albums Too
Similar to the memories you can make for albums, there are slideshows too. Use the "Slideshow" option to watch a mini-video of some of the content complete with an automatic soundtrack. You can choose the slides and music themes too, which include Origami, Dissolve, Magazine, Push, and Ken Burns. You can set it to repeat and even change the speed of the slideshow.

33Live Photos Playback Is Stabilized
When you view Live Photos in the Years, Months, or Days view in the "Photos" tab, there's improved stabilization for those that autoplay. It only applies to Live Photos shot in iOS 14 or iPadOS 14, though.

34You Can Add & Edit Captions for Photos & Videos
This is great if you can never find images via a search. You can add captions or keywords to each photo or video you take, which sync across iCloud Photos. Then, those captions and keywords can be used in a search to better locate things you need. Just swipe up on an image or video to add captions.

35There's a Redesigned Image Picker in Apps
In apps where you can pick photos and videos from the Photos app, such as Messages, Mail, Safari, and any supported third-party apps, a new image picker window will appear. In it, you'll find a search bar so you don't have to swipe if you don't have to. There's also tabs up top to choose from "Photos" or "Albums."

36You Can Limit What Photos Apps See
Normally, when apps need access to your Photos app so you can pick images or save some, you have to give access to the entire Photos app. Now, in iOS 14, you can give permissions to only a certain part of Photos.


New Camera Features
Photos aren't the only app that got some love — its Camera partner has a lot to give you too. Some of its newbies range from added device support for older features, improvements for some tools, and cool shortcuts.

37QuickTakes Are Now Available for iPhone XR, XS & XS Plus
QuickTakes lets you take videos faster right from the "Photos" mode in the Camera, and it was previously only available for the iPhone 11 and newer. Now, 2019's lineup — the iPhone XR, XS, and XS Plus — get the feature too.

38There's an Updated Night Mode Capture Experience
While Night mode is still an iPhone 11 and 11 Pro feature only, it's better than it was before. As Apple puts it, "the camera uses the gyroscope to provide a guidance indicator to help you stay steady throughout the capture. And you have the option to cancel in mid-capture rather than waiting for the capture to finish."

39Your Volume Buttons Can Capture Bursts & QuickTakes
When QuickTake came out for the iPhone 11 and newer, the press-and-hold gesture for either Volume button switched to shooting QuickTakes when in the "Photo" mode. It replaced the action that took bursts, even though older devices could only do bursts this way.

Now, iOS 14 brings back the burst option while letting us keep the QuickTake shortcut. You just need to adjust a setting, then burst images use Volume Up, while QuickTakes use Volume Down.

40Volume Button Actions Support More Modes for iPhone XR, XS & XS Plus
So, we just talked about the press-and-hold Volume button actions for the Camera app when it comes to bursts and QuickTakes, but you can also press-and-hold in other shooting modes. In iOS 13 on the iPhone 11 and newer, you can long-press to start a slo-mo video, regular video, or pano, then let go to stop recording. The new iOS 14 adds the iPhone XR, XS, and XS Max to the list, just like with QuickTakes.


41Every iPhone Can Switch Resolution & Frame Rate While Shooting Videos
When shooting a video in "Video" mode, there's a quick toggle in the toolbar that lets you switch to different frame rates and resolutions.

42You Can Lock Exposure & Focus Separately Now
Before, you could lock exposure and focus together, but now there are controls to lock them both separately now, which gives you even more granular, pro-level control over how you shoot photos and videos. You still long-press the screen to lock the focus and exposure, but in the toolbar, you can tweak the exposure to where you need it.

43Exposure Adjustments Can Be Locked in Preserved Settings
A new option in the Preserve Settings menu for the Camera is "Exposure Adjustment." With it on, it will remember your last used exposure, as well as show the exposure adjustment indicator.

44There Are Mirrored Selfies!
When you turn on "Mirror Front Camera," your selfies will now show up like a mirror. Well, it won't look any different on the viewfinder screen, but after you take the selfie, you'll notice the image flipped.

45There's an LED Indicator That Opens with Camera
Next to the TrueDepth camera there's an LED, and when you're in the Camera app, it will change from green to orange based on what you're doing.

46Your Camera Can Find QR Codes More Easily
To scan a QR code, you usually have to be right next to it, head-on. If they're too tiny, they may not work. The same if they aren't on a flat surface. But now, iOS 14 can work with those less than ideal QR codes.

47Shooting Photos Is Now Even Faster
Apple claims it's 90% faster to shoot photos, at up to four frames per second. It's now 25% faster to take your first shot. And when taking Portrait photos, it's now 15% faster in-between shots. Apple states that "performance varies based on specific configuration, content, battery health, usage, software versions, lighting, environmental conditions, and other factors."


48And You Can Prioritize Faster Shooting
In the Camera's settings, there's a new option for "Prioritize Faster Shooting." With it, it will intelligently adapt image quality when rapidly processing the shutter. It may not be the best option for quality control, but the quality does not suffer enough to notice.

New Maps Features
It wouldn't be a big iOS update without a few improvements to Apple Maps, and iOS 14 has plenty worth updating over, especially if you commute by bicycle or electric vehicle.

49There Are Now Cycling Routes
In addition to the drive, walk, transit, and ride directions for navigation, there's now cycling directions. When you select the "Cycling" tab, you'll see navigation that follows bike lanes, bike paths, side roads, and bike-friendly streets. It'll also let you know if walking is required, which is common in big cities, and if walking pedestrians share a path.

Right now, in the States, cycling directions are limited to Los Angeles, New York City, and the San Fransisco Bay Area.



50Cycling Routes Show Elevation
The cycling directions also show elevation gain for each route. That way, you know which route is better for your level of fitness (and possibly which path won't make your work clothes all sweaty).




51And How Busy the Streets Are
If it's a pretty low-traveled route, you'll just get the regular time indicator for each journey, letting you know how long it takes. But if there are busy roads, it'll say so and may recommend which path is faster and which is less active.


52Cycling Routes Let You Skip Stairs, Hills & Busy Roads
If you want to avoid stairs where you would have to carry your bike up or down them, hills that may be too hard to climb or too fast to drop, or busy roads that may heighten your chance at getting hit by a car, you can ask Maps to avoid routes with those items. You may not be able to avoid all steps, steep inclines, or busy roads, but it tries.



53There's Custom Cycling Voice Guidance on Apple Watch
According to Apple, "Maps also offers custom cycling voice guidance and a rich experience on Apple Watch that makes it easy to navigate with a glance." If you have an Apple Watch, that could be quite the improvement.

54And Up-to-Date Guides with Recommendations
Apple is working with trusted brands to develop tourism "Guides" directly in Maps. These guides could be anything from cool places to eat, places to shop, parks to visit in your city, spots to meet friends, trails to hike in your region, and other exploratory subjects. Guides can be saved and will update automatically when new places are added. Right now, we know that AllTrails, Louis Vuitton, and Zagat are partners, though, there may be many more. To start, Guides are only available in San Francisco, New York, London, and Los Angeles.



55You Can See Congestion Zones & Avoid Them
In many cities across Europe, Apple plans on letting you see congestion zones, which help reduce traffic in dense areas. Cities like London and Paris are givens. Maps can help you locate congestion tolls in routes, as well as help you plan around them.

56There's Electric Vehicle Routing to Find the Right Charging Station
One problem with owning an electric vehicle is that you never know when and where you'll be able to charge it during a trip. That's why many people with electric cars don't travel far beyond their city. Apple Maps can help you plan for excursions outside your safe zone with EV routing.

Add your make and model car to your iPhone. Then, when you route a trip, it'll show you the right charging stations for your automobile along the way, so you know where to make pitstops. It even accounts for charging times when determining your ETA and shows your current charge levels.

Right now, Apple is working with BMW and Ford, but more manufacturers should be jumping on board over the next few months.

57Urban Areas Give More Accurate Location & Orientation Readings Now
In dense cities with lots of buildings and skyscrapers, your GPS signal isn't always going to be the best. Unfortunately, that results in Maps getting confused and giving you wrong directions and orientation readings. In iOS 14, you can get more accurate location and orientation readings in urban areas with weak GPS signals.

58It Detects Speed Cameras & Red-Light Cameras Ahead
Maps wants to help prevent you from getting any unnecessary traffic tickets when you're navigating. During directions, it will alert you when speed cameras and red-light cameras are coming up. That way, you can slow down, drive more carefully, and watch those intersections. You can even see the individual cameras on the current map.

59Long-Press the AQI Icon to View More Air Quality Details
Since iOS 12.2, Apple Maps has let you view the Air Quality Index report, not just the weather information, for a specific area on the map. Haptic Touch or 3D Touch that and you'd only see more detailed weather data, but in iOS 14, the AQI readings are also in more detail in the expanded view.


60The New Maps App Is Available in More Countries
The US has had the new and improved Maps since the start of 2020, and with iOS 14, more countries are starting to get the new look and feel, including Canada, Ireland, and the UK.

New Music Features
The Music app also has a few newbies worth exploring, whether you're an Apple Music subscriber or just listen to your own music library.

61It's 'Listen Now' Instead of 'For You'
The "For You" tab has been renamed "Listen Now." It's a tab only applicable to Apple Music subscribers, just like before, acting as your personalized home page for the service. If you subscribe, the tab will be the first tab, with "Library" moving to the fourth slot. If not, nothing changes with the tabs order.

Why the name change? Because Apple Music is finally upping its game in regards to playlists and discovery features to compete with Spotify, which is already good at it. There are Top Picks with your most listened to music (which have more prominent poster-like art to make them stand out), curated playlists, and more. Plus, there are Stations for You, which are based on the artists you follow already. There are also custom Apple mixes. Overall, it's a decent improvement, but only if you're a subscriber.


62Autoplay Keeps the Music Going
Before, when you would listen to playlists, albums, or whatever's in your Up Next queue — even if just one song — when everything has been played, the music stops. Now, there's Autoplay, which will continue music playback with similar tracks it thinks you'd like, and you can turn it on and off via its new button next to the shuffle and repeat ones. Unfortunately, it only applies if you're listening to Apple Music, not your own music library.



63You Can Browse Genres, Moods & Activity Lists in Just a Tap
As soon as you open the "Search" tab in the Music app, you'll see a grid of cards for categories you can browse on Apple Music. Most of them are genre cards, which give you quick access to new albums, playlists, top hits, and more. Before, you'd have to type in the genre, then find it that way, or find the "Genres" link in the "Browse" tab. The cards also highlight moods and activities, like "Summertime Sounds."



64The Search Tab Is Better Overall
When you perform a search for Apple Music content, instead of getting a text list of possible results and suggested searches, you get the suggested searches first, then larger results for artists, playlists, etc. complete with artwork. Then, when you tap a suggested search, you get one list of results with tabs up top for Top Results, Artists, Albums, etc. Before, the list would be sectioned off with only a few results showing in each category.

Likewise, when searching your own library of music, you'll also get a long list of results that aren't pre-sectioned. You can swipe down on the list to bring up the tabs for Top Results, Artists, Albums, Songs, and Composers.

Before, you could switch between the Apple Music and Your Library tabs during a search, which was nice. Now, those options are gone, but you can still do it by tapping in the search box, which unhides the options.



65There Are More Ways to Search Your Library
In the "Library" tab, there are links to Playlists, Artists, Albums, Songs, Genres, Downloaded, etc. Tapping each works the same, only in iOS 14, there's also a hidden search bar to help you "find" content in that section. Just swipe down on the screen to make it visible.

For example, in the Artists section, you can search for an artist's name. When you tap on one, you can then search for one of their albums by name. There are hidden search fields like this in many areas of your library, and it really helps drill down to what you want.



66The Sort Options Menu Is Smaller & Less Obtrusive
When in a view where there's an option to "Sort," in iOS 13, an action sheet would pop up on the bottom of the screen after tapping it. Now, in iOS 14, it's a smaller window by the "Sort" button.



67Now Playing's Background Compliments the Artwork
The Now Playing screen's background color complements the artwork instead of being just plain white. It's definitely an improvement over the old style, reminiscent of Hue ambient lights for TVs, complete with a shifting gradient as the music plays.




68And the Overall Layout Looks Much Better Too
When viewing an album, the artwork will be larger than before, taking up the center top, and the album details will be below it. Previously, the artwork would be on the top left, with the details on the right.

Also, the Play and Shuffle buttons have red backgrounds with white text instead of red text on a gray background. It makes them more noticeable, for sure. The download button is now in the top right now, next to the ellipsis menu icon.



69The Music Widgets Are More Helpful
Music is one of the apps with a new widget. Before, you could long-press the app's icon to show a widget with your recently listened to albums, as well as view the same thing from Today View. Now, the widget comes in three sizes: one that shows one album, another with five, and the biggest with nine. And unlike before, it actually says the title of the top recently played item.



70You Can Automatically Download iTunes Purchases
Before, whenever you bought music from the iTunes Store, it would show up in the Music app, but you'd had to download it manually if you wanted to listen to it offline. In iOS 14, there's a new "Automatic Downloads" switch in the Music settings, so you don't have to remember to do it yourself.



New Features for Headphones
Whether you have a set of first- or second-generation AirPods, AirPods Pro, or a pair of supported Beats headphones, there are few things that will make music, movies, and phone calls better overall.

71Headphones Accommodations Help You Hear Better
If you have a hard time hearing people on phone calls, listening to specific frequencies in music or movies, or trying to make out soft sounds, the new "Headphones Accommodations" accessibility feature can help. You can customize the audio setup to amplify spoken content and adjust the level of the tones for music playback. If you have an audiogram in the Health app, it can even use that to help build your listening profile. You can apply these personalized listening settings to phone calls, music and movies, or both.

According to Apple, it "also supports Transparency mode on AirPods Pro, making quiet voices more audible and tuning the sounds of your environment to your hearing needs."




72There's Spatial Audio for Surround Sound
The AirPods Pro can also support spatial audio, or 3D audio, when watching movies and listening to compatible music. It works for sound designed for 5.1, 7.1, or Dolby Atmos surround. Spatial audio uses the gyroscope and accelerometer in your AirPods Pro and your iPhone and keeps track of your head position and device movement, respectively. Then, it remaps and filters the audio to give it that all-around-you feel.

73There's an 'Announce Messages with Siri' for Apple Watch
The iPhone already had an "Announce Messages with Siri" toggle available for the Control Center, which gave quick access to turn it on or off for your AirPods or just mute it for an hour. Now, if you also have an Apple Watch, its Control Center also has the control, which turns it off and on quickly.

74The Hearing Control Shows Your Headphones Level
Before, the Hearing control in the Control Center was only for enabling or disabling the Live Listen feature, at least, when it came to AirPods. Aside from doing a better job at that in iOS 14, it also shows off the headphones level. That way, you can tell if you're listening at dangerous levels or not.




75You'll Get a Notification When Your AirPods Need Charging
If your iPhone knows you're about to use your AirPods, whether because it's when you typically use them or because you have an audio meeting coming up, it'll give you a notification saying that you need to charge them.

76Charging Your AirPods Can Be Optimized
Just like with your iPhone's "Optimized Battery Charging" feature that's supposed to make your iPhone's battery last longer, there's one for your AirPods now too. Whenever you charge your AirPods, you'll get a notification letting you know.




77You Can Set the Max Headphones Level to Save Your Ears
There's a new setting called "Reduce Loud Sounds" in the "Sounds & Haptics" settings. With it on, you can set a maximum safe volume in decibels so that your headphones will never go over it.



78Alerts Can Warn You When Your Headphones Are Beyond Safe Hearing Levels
Aside from controlling the max volume limit, your iPhone may send you notifications when you're listening to music past safe thresholds, giving you a chance to lower it below the danger zone.

Other Features to Look Forward To
There are so many new features in iOS 14 that it's hard to list them all in detail. Below are the remaining iOS 14 features we've found, but we'll explain them a little bit better as we continue to update this article.

Incoming calls appear as a banner instead of taking up the whole screen.

Same thing with FaceTime calls.

And third-party VoIP calling apps can also use the smaller banner.

Siri has a new compact design that doesn't take up the whole screen.

Siri results will be in a notification instead of the full screen.

Siri can record and send audio messages.

You can have Siri share your ETA from Maps.

Siri finds answers on the web from more sources, so it can do more work for you.

Siri can give you cycling directions.

Siri can translate between more languages, with over 65 pairs.

Siri has a new voice for other languages besides US English.

Picture-in-picture view for videos is available device-wide.

And you can move the PiP window around to a corner that's better for you.

And you can resize the PiP window too.

And you can minimize the PiP window off-screen and still listen to the audio.

Search is now more powerful than ever.

Top hits will show up first in Search.

Type a few letters and you'll get smart results in Search.

You can quickly launch apps that appear in Search faster.

Searching the web via Search is even better now.

Use Search to start a search in apps like Mail, Contacts, Messages, and Files.

Memoji has more hairstyles to choose from.

And new headwear styles.

And more ages.

There are face coverings for Memojis now.

Memojis are more expressive.

There are three new Memoji stickers.

You can get next-hour precipitation charts in Weather.

Weather will tell you when it will be warmer, colder, or wetter the next day.

Weather and its widget will display severe weather alerts issued by the government.

You can use folders for Voice Memos.

Voice Memos can be favorites to find more easily later.

Voice Memos has smart folders for Apple Watch recordings, Favorites, and recently deleted items.

You get cleared recordings in Voice Memos with reduced background noise.

You can assign reminders with people you share the reminders with.

There are smart suggestions for dates and locations in Reminders.

Siri will help you with Reminder suggestions in Mail.

You can edit multiple reminders at once.

You can make new reminders from the lists screen.

Reminders lists can be more personalized with emoji and new symbols.

You can manually organize your smart lists in Reminders.

Search is better in the Reminders app.

It's easier to pick dates via the calendar in Reminders.

There's a new Smarter Listen feature for Podcasts.

There's a New Translate app.

You can translate your voice into another one.

There's a full offline mode available so you can translate without a web connection.

The Translate app has conversation mode, which will translate discussions for you effortlessly.

You can favorite translated phrases and view your history.

There's a mode to enlarge text translation on the screen to get someone's attention better.

You can get definitions for translated words.

There's easy text translation from the keyboard.

There are 11 languages you can easily translate between.

Home will suggest automation for you.

There's a status at the top of Home for things that need your attention.

Home controls in the Control Center are even better now.

There's Adaptive Lighting for smart light bulbs.

And face recognition for video cameras and doorbells, as long as those people are tagged in the Photos app.

Safari has a translator tool so you don't need third-party ones anymore.

You can see a privacy report for sites you visit in Safari.

Safari can tell you if your password was involved in a security breach online.

Safari has a 2x faster JavaScript performance than Chrome on Android.

You can unlock your car with your iPhone using CarKeys.

You can also start your car with CarKeys.

You can share your CarKey with other iPhone users.

And you can set different permissions for each shared key, like unlock only or can drive.

You can remove people's CarKey access too.

You can share your CarKeys via Messages.

You can start your car with CarKeys even when your iPhone is low on battery.

There are new app categories for CarPlay.

There's a new horizontal status bar for CarPlay for a more natural layout.

You can share your ETA over CarPlay with Siri.

And use Siri to send audio messages over CarPlay.

You can customize your CarPlay screen with a wallpaper.

There are now Japanese and Chinese keyboards for CarPlay.

App developers can show more in their CarPlay apps.

You can access and use apps without downloading them onto your iPhone via App Clips.

App Clips can be started via QR codes, NFC tags, App Clip codes, place cards in Maps, links in Safari, and links in Messages.

You can download the full App Clip app in one tap.

You can launch App Clips from the App Library in Recently Added.

Apple Pay works with App Clips so payments are super fast.

App Clips work with Sign in with Apple.

App Clips still require permissions to Camera, Microphone, etc. when needed.

There's a new Privacy section for apps in the App Store.

There are app tracking controls and transparency in the App Store.

The most important details for apps in the App Store are glanceable.

You can share App Store subscriptions with your family.

There are Apple Arcade game recommendations based on your friends' activity.

You can view achievements you can complete in Apple Arcade games.

You can play Apple Arcade games you left off at on other devices.

It's easier to browse and sort the Apple Arcade catalog.

There's a section coming soon in Apple Arcade for new games coming.

There's an in-game Game Center dashboard for Apple Arcade.

You can share approximate locations instead of your real locations with apps.

That LED indicator we talked about for the Camera also applies to the Microphone, so anytime you're recording audio in any app, it'll appear. The indicator also appears in the Control Center.

There's a new enhanced actions menu for Notes.

You can collapse or expand your pinned lists in Notes.

When you draw shapes in Notes, they'll snap into place so you don't have to be perfect.

The scanner produces sharped images in Notes.

There's a new Top Hits section for searches in the Notes app.

You can change text styles faster with a gesture in Notes.

"For You" is now "Listen Now" in Apple Music.

Autoplay in Music won't stop at the end of songs, albums, or playlists, instead, finding similar songs to play.

There's a better search experience in the Music app.

You can filter search results for your library in Music.

There's on-device dictation in the keyboard.

You can search for Emojis now in the Emoji keyboard (goodbye, Gboard!).

Contacts will now autofill in third-party apps when you start typing them out.

VoiceOver will work with apps and sites that don't have VoiceOver support.

VoiceOver can speak the text within images and photos.

And read complete-sentence descriptions for images and photos.

VoiceOver detects on-screen controls to navigate apps better.

You can place anchors in real-world locations for AR experiences to you can view them from anywhere.

There's PiP for FaceTime calls.

Instead of just adding prominence to the current speaker in FaceTime calls, it'll do it for sign language too now.

FaceTime will make it looks like you're making face contact even when you're staring at the screen.

FaceTime can go up to 1080p on certain devices.

There's APFS encrypted drive support in Files.

You can customize your sleep schedule more in Health.

There's a Wind Down feature for Health to help you relax and fall asleep.

There's a Sleep mode that turns on DND, dims your display, and displays important info like alarm time and date.

There are new Health data types such as mobility, ECG, and more.

There's a new health checklist in Health.

You'll get a notification when your Apple Watch is done charging.